Birdie Everything: 2022 Innovation Challenge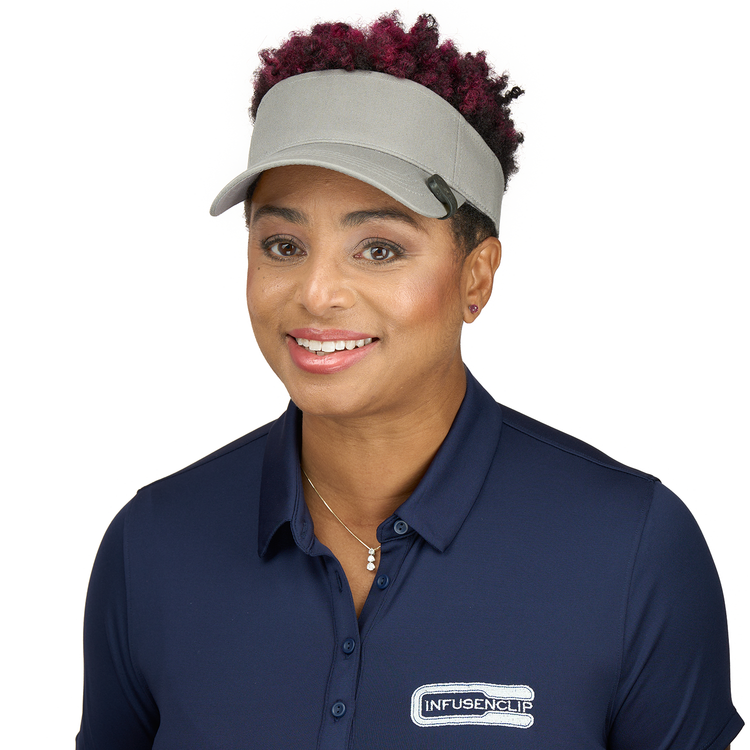 Birdie Everything is one of the many gifts of Loudoun this holiday season. This is one story in a series of 31 that highlight #LoudounPossible opportunities in the county. Check back every day in December to learn more!
If the path to entrepreneurship was a game of golf, not every drive would hit the fairway. Just ask Robyn James, founder of Birdie Everything, and the Grand Champion of the 2022 Loudoun Innovation Challenge.
At one time she was a self-described "cubicle dweller," working a corporate job in Atlanta when the housing bubble burst and the economy dipped in 2008.
Recognizing the toll that office life was taking on her, she moved back in with her parents in North Carolina to transition to the world of professional golf.
Over the next few years, she spent countless hours on the links, where she had a chance encounter with a dad teaching his daughter how to play.
"I'm the only woman out there working on my game on the driving range, and this dad asked me to show the little girl how to hit a golf ball. I wasn't a golf instructor at that point in time, but I knew a little bit about golf," James said. "I helped her hit the ball in the air for the first time and she had this look like, 'Oh my gosh, I'm in love with this game.' She had such a bright smile and she was so proud of herself."
Teaching the game of golf clicked with Robyn, and she also wanted to help encourage this girl's golf journey.
"She said that she wanted to continue playing golf. I had a rhinestone bumblebee golf ball marker clipped on my hat, and I took it off and I gave it to her," she recalled. "I said, 'I don't know where you'll go in this game, but you'll always need to know where you've been.'"I explained to her what a ball marker was, and they were so excited. They drifted off and I lost track of her."
James' own journey in golf brought her to Leesburg, where she traded instruction time for access to the courses, and the hours needed to become an LPGA Pro. She worked at many courses across Loudoun County and beyond, focusing on introducing women and girls to the sport.
One day, she got an unexpected reminder of her first student.
"That girl found me on Facebook. She wanted to thank me, and shared how much she wanted to be just like me that day in North Carolina," James said. "It meant a whole lot to her, she loved the game of golf, and she kept her promise to stick with it.
"That was an awesome note to receive!"
When James clicked through to the girl's Facebook page, she had a beautiful swing and was all grown up. "Then I zoomed in on a picture of her hat, and there was the bumblebee ball marker that I gave her."
Once again, something clicked for her.
"I started telling my golf students that they should get a ball marker that meant something to them," James explained. "People would come with all of these different things that they wanted, that meant something to them. Oftentimes, they couldn't find exactly what they wanted, so I started 3-D printing ball markers based on what they enjoyed."
One woman asked for a brook trout, which reminded her of her fly fishing trips in Colorado. Another asked for an RV, which reminded her of her travels. Each design was hand-crafted, but some were too heavy for the traditional metal clips.
When the women would swing, there wasn't enough friction on the metal half clips for them to stay on.
"I taught myself how to make a rubberized clip to go on the hat, which helped them stay on, but the rubberized scent was overwhelming," James explained. "I went total mad scientist at home and added citronella to mask the rubber smell.
"When I gave it to my golf students, they told me that it kept the bugs out of their face while they were playing. One client encouraged me to pursue a patent, and the InfusenClip was born in December of 2021."
James is still an LPGA-certified golf pro, and still makes custom ball markers for her clients. But with the help of 3-D printing and the $40,000 prize for winning the 2022 Loudoun Innovation Challenge, she's ready to scale Birdie Everything to the next level.
Locating Birdie Everything in Loudoun
James grew up in a military family, which gave her the opportunity to live in many places – but never for very long.
Like so many people who live, learn and play in Loudoun County, she first came here for work. She stayed for the award-winning golf courses, professional opportunities, and a business community that values and celebrates Black female entrepreneurship.
Loudoun County was recently named a top-five community in the Black Progress Index, a collaborative research project from the Brookings Institute and NAACP to find where Black U.S. residents are living their best lives.
Loudoun's 31,000 Black residents are more than the top-four communities, combined. The rate of Black business ownership was an important factor in the index.
"There's a network of resources in Loudoun County to help you be successful. That's been really cool and eye-opening for me," she said. "Through the process of the Innovation Challenge, I'm learning a lot more about Loudoun's economy, and how supportive the community is for businesses."
Entering the pitch competition has also opened the door for more networking opportunities, and the type of chance encounters that Birdie Everything needs.
"If you thought that networking wasn't important, you should think again!" James said. "As an entrepreneur and an inventor, you're kind of in your own little space, as far as your schedule, processes, struggles and wins.
"Talking with people, getting in spaces where other people are inventing stuff. It's a great community that will share their successes and their challenges."
With a robust inventory of flex-industrial space, an educated workforce, and access to precision manufacturing tools, Loudoun's highly specialized manufacturing leaders have welcomed Birdie Everything with open arms.
In November, she signed a sublease that gives her access to commercial space, tools, and the expertise to help scale production for "bigger clients that are waiting in the wings."
"I think Loudoun County has a great network of inventors that just want to see everyone succeed in their space," she said. "I'm floored every time I look at my wall and see the big check that I got as my prize. I'm floored and so thankful. I don't think I would have been able to do this in any other county besides Loudoun."
James also reinvested in her brand, hiring a Loudoun-based marketing firm, photographer and packaging printer to take her products to the next level.
Just don't expect success to prevent her from teaching Loudoun women and girls how to play the game she loves.
"The Loudoun EDA asked me if I was going to stop teaching golf. I said, 'No, because that's my research and development team,'" she explained. "My golf clients are the first to test different products and provide feedback to make them better."
The Loudoun Innovation Challenge Experience
Raspberry Falls Golf & Hunt Club in Leesburg is one of the places where Robyn serves as an instructor. Willy Lutz is a Partner in Raspberry Golf Management, and has been a constant source of encouragement for James's journey over the last several years.
When the InfusenClip became commercially available, Lutz offered to sell them in the Raspberry Falls Pro Shop. When he heard about the 2022 Loudoun Innovation Challenge, he pushed Robyn to apply.
"Initially, I thought I was too small to sign up for it. So, I didn't really think much of it," she admitted. "But I knew Bo Wernick and Fred Briggs, who entered the Innovation Challenge in the past. I asked them some tooling and engineering questions, and they asked me to apply for the Innovation Challenge.
"I said, 'I don't think I qualify.' Fred was like, 'You absolutely do.' With their encouragement, I entered the Innovation Challenge, and it has been a game-changer."
In her own words, winning the pitch competition has caused James to "throw out" her growth plans. Time to think bigger, faster.
"With this money, I'm reworking all my numbers and dreaming a whole lot bigger," she said. "Some large companies are showing interest in me now, and I don't want to jinx it! But I'm excited."
To learn more about Birdie Everything, and how you can keep the bugs away while you play, check out their website today.