Virginia Entrepreneur Robyn James to be Featured Innovator at 2023 PGA Show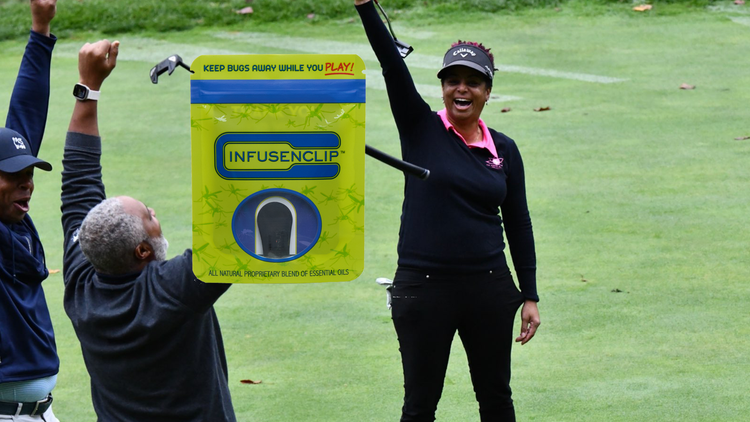 Golf pro and entrepreneur Robyn James wins a PGA Show scholarship to showcase her innovative product at golf's global business gathering next week in Orlando.
LOUDOUN COUNTY, VIRGINIA, USA, January 18, 2023 -- Virginia entrepreneur and LPGA Class-A Professional, Robyn James, will be taking her startup to golf's biggest showcase events this month, as a featured innovator at the 2023 PGA Show in Orlando.
The 70th Annual PGA Show, organized by the PGA of America and PGA Golf Exhibitions, is golf's longest-running and largest global business gathering. Thousands of attending golf leaders, industry executives and retailers from around the world will source new products from some 800 golf and lifestyle brands.
James, who was recently named the grand champion of the 2022 Loudoun Innovation Challenge for her InfusenClip product, was selected by the show's organizers for a booth scholarship at this year's event, by winning the "Share Your Story" competition.
"I am immensely honored to be attending golf's premier product event, and look forward to representing our innovative community on the road in Orlando," James said. "This is a golf show, but the opportunity and spotlight are much bigger than that."
James started her business, Birdie Everything, several years ago as a way of selling her ball markers, which were hand-made for her golf students and clients. Unlike most generic ball markers, hers are personalized to have a special meaning to the recipient.
"You don't always know where you're going in this game, but this will help you remember where you've been," James would tell them, creating coin-shaped designs as unique as an RV or fishing lure.
To keep the ball markers from getting lost, they are often affixed to hat brims, but traditional metal clips did not provide the friction needed to keep the unique ball markers in place. James began tinkering with a magnetic silicone design, but the pungent smell was overwhelming.
She began soaking them in essential oils and herbs to cover the scent and stumbled upon an all-natural, long-lasting formula that repels bugs without harsh sprays or chemicals. In 2021, she patented her solution and brought InfusenClip to market.
"It's a great example of how one thing in life leads to another, and it underscores the importance of action in the process of innovation. The most important step is the next one," James explained. "Last year was beyond my wildest expectations, and I'm excited to hit the ground running in 2023."
After winning the 2022 Loudoun Innovation Challenge, James reinvested her $40,000 prize into growing her business in the community. For manufacturing space, she subleased a small workspace from Applied Impact Robotics in Sterling. For production, she upgraded her 3-D printing equipment and stocked up on supplies.
For branding and marketing, she employed POUNCE Solutions to refine her message, build a new website, and prepare her for the PGA Show. James also worked with local photographer Robin Sgambati, to give her brand a more professional look. Finally, James partnered with BCT for her banking needs, thanks to their track record supporting local businesses.
The InfusenClip is currently available for retail at more than one dozen golf courses across the U.S. and is expecting to announce a major online retail partner in early 2023.
"When this process started, I was an individual with a vision. Thanks to my students, early supporters, the Loudoun Economic Development Authority, and the community's investment in my business, we have a team of collaborators that is growing together," James explained. "This is a testament to the teamwork and talent that calls Loudoun home."
As part of her experience at the PGA Show, James has been selected to serve on a panel of speakers on the main stage, talking about her innovation and entrepreneurial journey.
To shop new arrivals and featured products, please visit our InfusenClip store page to place your online order or contact us today for more information.
About InfusenClip by Birdie Everything
Birdie Everything LLC is a woman- and Black-owned business based in Loudoun County, Va. The InfusenClip™ keeps annoying, biting insects off your face & head without spraying harsh, foul-smelling chemicals. Our clips are infused with a proprietary blend of sweet-smelling herbs and essential oils that are backed by science, and keep insects away, naturally, for months. With a flexible design and powerful magnets, the InfusenClip™ easily grips to any hat brim, keeping bugs out of your face no matter your activity level.
About PGA Golf Exhibitions
The PGA Show, PGA Buying & Education Summit and PGA Show Connects are organized by PGA Golf Exhibitions (part of RX) and the PGA of America. Since its inception in 1954, the PGA Show has grown into the largest annual business event for the global golf industry. Regional PGA Show Buying & Education Summits and the PGA Show Connects digital platform connect the industry year-round and drive business leading up to the annual PGA Show. Learn more at PGAShow.com and follow us on Twitter, Instagram and Facebook.
About the PGA of America
The PGA of America is one of the world's largest sports organizations, composed of nearly 28,000 PGA Professionals who work daily to grow interest and inclusion in the game of golf. For more information about the PGA of America, visit PGA.com and follow us on Twitter, Instagram and Facebook.